Lagos and the New Media in John Koethe's "This is Lagos" and Rashidah Ismaili's "Lagos" Online Poems
Kufre Nosa Egharevba

University of Uyo, Uyo, AkwaIbom state. Nigeria
Keywords:
Lagos, New Media, John Koethe, Rashidah Ismaili, Formalism
Abstract
This paper examines two online poems by two different poets; John Koethe and Rashidah Ismaili as they both describe Lagos to the world. This paper adopts both a Formalist approach and Reader-Response Theory to examine the way John Koethe and Rashidah Ismaili portray Lagos in their poems. These two poems were purposively selected because they happen to be the first two poems on Lagos presented when I searched the internet via Google search engine with the catchword "poems on Lagos".
Through formalist lenses, Lagos is projected as a place of chaos, filth, and inhabited by people who don't have regard for their heritage, and have not learned from their history; for these reasons, the present day and future of Lagos and Lagosians is jeopardized. This image of Lagos is projected by the two poets who ironically are not Nigerians more or less Lagosians, neither do they stay in Lagos, but their finite conclusion of Lagos is drawn from maybe a visit, or hearsay as explained by Koethe. Through Reader's Response Theory, instead of writers and poets in Lagosians or Nigeria countering these allegations, not even a single response and silence means acceptance to the issues raised by the two poets.
References
Dittmar, Jeremiah. (2010). Information Technology and Economic Change: The Impact of the Printing Press. http://eh.net/eha/wp-content/uploads/2013/11/dittmarb.pdf
Egginton, William and Wegenstein, Bernadette.(2016). Impact Of Media On Literature. In Comparative Literature: Sharing Knowledge for Preserving Cultural Diversity– vol. Ii.
Gancho, Sara. (2017). Social Media: a literature review. e-Revista LOGO. 6. 1-20. 10.26771/e-Revista.LOGO/2017.2.01.
Grey,William. (2000). Metaphor and Meaning. Minerva, Vol 4. http://www.minerva.mic.ul.ie//vol4/metaphor.html
Gunaratne, Shelton. (2001). Paper, Printing and the Printing Press. Gazette. 63. 459-479. 10.1177/0016549201063006001.
Ma, Lin & Liu,Aihua. (2008). A Universal Approach to Metaphors. Intercultural Communication Studies XVII:Harbin Institute of Technology https://web.uri.edu/iaics/files/26-Lin-Ma-Aihua-Liu.pdf
Merkoski, Jason. (2013). Burning the Page: The eBook Revolution and the Future of Reading. Sourcebooks: Illinois.
Oyemade, Poju.(2018). Becoming a leader AUDIO MESSAGE
Pressman, Jessica. (2014). Digital Modernism Making It New in New Media. Oxford University Press: Oxford
Ryan, Marie-Laure. (1999).Cyberspace Textuality: Computer Technology and Literary Theory. Indiana University Press: Indiana.
Schein, R,Wilson K, &KeelanJ. (2016). Literature Review effectiveness of the use of Social Media Report for Peel Public Health. Encyclopedia of Life Support Systems (EOLSS).The Johns Hopkins University: Canada.
Wurth, Kiene B. Ed. (2012) Between Page and Screen Remaking Literature Through Cinema and Cyberspace. Fordham University Press: New York.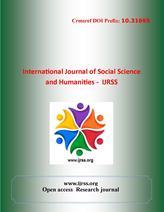 How to Cite
Kufre Nosa Egharevba. (2021). Lagos and the New Media in John Koethe's "This is Lagos" and Rashidah Ismaili's "Lagos" Online Poems. International Journal of Research in Social Science and Humanities (IJRSS), 2(2), 16-28. https://doi.org/10.47505/IJRSS.2021.9173
Copyright (c) 2021 Kufre Nosa Egharevba
This work is licensed under a Creative Commons Attribution-NonCommercial 4.0 International License.