Analysis of Youth Participation in Hides and Skin Processing and Marketing in Sokoto-Metropolis, Sokoto State, Nigeria
Aliyu M. S

Nigerian Institute of Leather and Science Technology, Zaria, Kaduna, Nigeria

Harande Y. A

Department of Administrative and Leadership Education. Indiana University of Pennsylvania. USA

Umar M

Nigerian Institute of Leather and Science Technology, Zaria, Kaduna, Nigeria.

Sani Khalid Mohammed

Nigerian Institute of Leather and Science Technology, Samaru-Zaria, Kaduna state, Nigeria

Eze Abdullahi D. U

Federal College of Education, Zaria, Kaduna state, Nigeria
Keywords:
Hides and Skin, Youth, Processing, Marketing, Tanning, Income, Sokoto
Abstract
Livestock breeding with other related activities the most important sectors of agriculture provide the population with food and essential raw materials. The aim of this study is to describe the socio-economic characteristics of the youth participating in hide and skin processing and marketing in the study area, and to describe the level of youth participation in hide and skin processing and marketing; with view to determine the cost and return in hide and skin processing and marketing; as well as to evaluate the constraint encountered by youth involved in hide and skin processing and marketing in the study area. A total number of 100 samples were collected with the aid of a structured questionnaire. The information was collected based on socio-demography, hide and skin processing methods practiced by respondents, and constraints faced by the processor in the study area. Descriptive statistics were used to analyze the data collected, which involves the use of measures of central tendency such as means, frequency distributions and percentages to describe the socio-economic characteristics of leather processors in the study area and the constraint confronting the leather processing and marketers. It was found that quality control assessment of the product, poor extension services, lack of protective wears, expose to dangerous chemicals were seen to have a significant effect on the participation of youth in hide and skin processing and marketing. Age, marital status, household size, and training experience had no effect on the youth's participation in the hide and skin processing and marketing. The study also found that despite the constraint youth experienced in the study area, they still contributed greatly to tanning activities and were willing to continue with tanning activities as a profession.
References
Anil, G. and Suraiya, N. (2014). Socio-Economic Conditions and Life Style Related Characteristics of Tannery Workers of Hazaribagh, Dhaka: A Cross-Sectional Study. Int. J. Bus. Soc. Sci. Res. 1(3): 176-179. Retrieve from http://www.ijbssr.com/currentissueview/14013031
Alao, J.A. (1976). "Rural Family Under Stress; The changing role of Youth in Nigerias Rural Communities, Implication for Planning and development." Paper presented at the seminar/Workshop on Nigeria Youths, University of Ibadan, Pp. 1-4.
Daniel, C.L., Fernandez, A.M., Gassman, N.R., Bae, S., Blashill, A.J., Tan, M.C (2017). Significant Engagement in Tanning Behaviors by Men at a U.S. University. Journal of Community Health. 1-4. DOI: https://doi.org/10.1007/s10900-017-0464-y
FAO. (2001). Research and Extension: A Gender Perceptive. Women in Development Service (SDWW): Women and Population Division, Rome, Italy Government of Pakistan, 2008-09. Economic Survey of Pakistan, p: 177.Finance Division, Economic Advisors Wing, Islamabad, Pakistan.
Federal Republic of Nigeria (1999). Constitution of the Federal Republic of Nigeria. Abuja (1999).
Ihuoma, A.A., Okezie, N. O., Okonkwo, E. M. And Zubair, Y. (2001). "Current Status of the Nigerian Leather Industry, Part 2: Potential Hide and Skin Production", Journal of the Society of Leather Technologists and Chemists, 85 (5): 170-182.
Ismail R. (2005). Designing value Chain/Market for the poor (M4p) Programmes in Nigeria, Word Bank, 13th October, Sharaton towers Abuja, www.bdsknowledge.org/dyn
Iwala, O.S., (2006). Assessment of Youth in Agriculture Programme in Ondo State: Discernibility and Effectiveness in Onibi, G.E., Agele, S.O. Adekunle, V. A. J. and Akinbuluno, M.O. (Eds) 2006 proceedings of the 2ndannual conference in Agricultural Research for development in Nigeria and agricultural technology. Federal University of Technology; Akure pp. 223 — 231.
Nigerian Tanners Council (2009). List of Tanners and their Addresses, Tanners Council Registered in Nigeria, 31/32 Niger Street, Kano.
Ogunremi, O.O., Ogunremi, J.B. and Faleyimu, O.I (2012) Relevance and Benefits of Agricultural Youth Empowerment Programme to Participating Youth in Osun State, Nigeria. Asian Journal of Social Sciences & Humanities. 1(2):33-38.
Olukosi, J.O. and Erhabor, P.O. (1988). Introduction to Farm Management Economics: principles and Applications. Agitab Publishers Ltd, Samaru-Zaria, Nigeria. 77-92.
Onuekwusi, G.C. and Effiong, E. O. (2002). "Youth Empowerment in Rural Areas through Participation in Rabbit Production; A Case of Akwa Ibom State, Nigeria." Nigerian Journal of Rural Sociology, 4:95-99.
Shahzad, K.A.S. and Mahmud, S. (2006). Prevalence and determinants of asthma in adult male leather tannery workers in Karachi Pakistan: A cross sectional study. BioMed Central Public Health, 6: 292.
Umeh, G.N and Odo, B.I (2002): profitability of poultry production among school leavers in Anaocha Local Government Area of Anambra State Nigeria. Nigeria Journal of Animal Production 29: 76 — 80.
Umar, M., Ibrahim, M. A., Mustapha, B. M., Mohammed, I. B., Tashi, U. T., Obafemi, A. and Ahmad, G.I. (2017). Physicochemical Analysis and Microbiological Assessment of Tannery Effluent Discharged from Tanneries around Nigerias Kano Industrial Estates. Journal of Advances in Microbiology, 2(1): 1-12. DOI: 10.9734/JAMB/2016/31437. http://www.sciencedomain.org
Umar, S.M., Aminu, A. and Suhasini, K. (2015). Leather Value chain Study in Katsina State, Nigeria: Cost and Return Analysis. Research Journal of Agriculture and Forestry Sciences. 3(11): 10-20. ISSN 2320-6063
UNDP, (1995). Human Development Report. Oxford University Press, United Nations, New York
UNIDO (2004). United Nations Industrial Development Organization. Hides and Skins Improvement Expert Technical Report Prepared For The Government Of Nigeria. By The United Nations Industrial Development Organization. 1-46 PP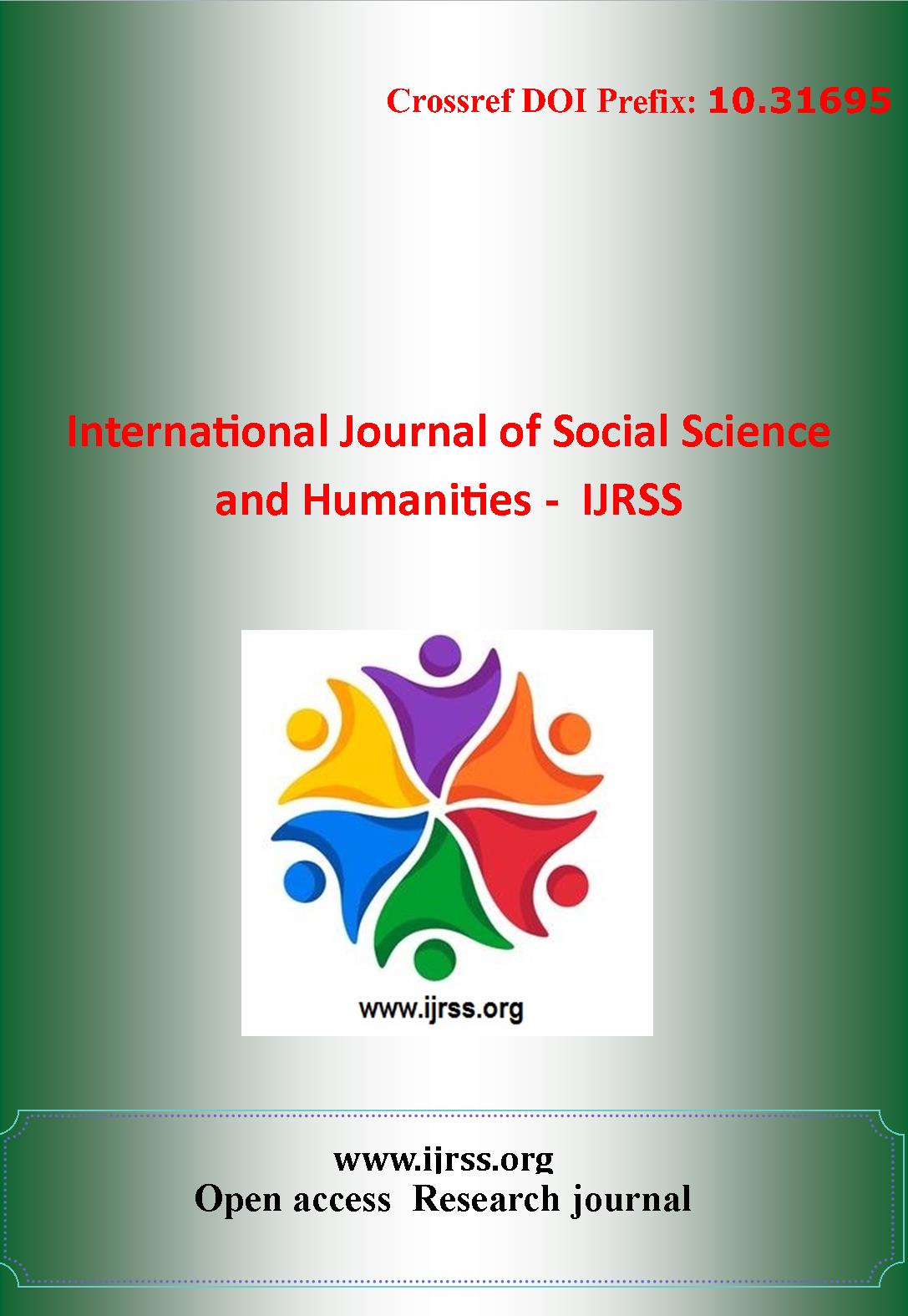 How to Cite
M. S , A., Y. A, H., M, U., Mohammed, S. K., & D. U, E. A. (2021). Analysis of Youth Participation in Hides and Skin Processing and Marketing in Sokoto-Metropolis, Sokoto State, Nigeria. International Journal of Research in Social Science and Humanities (IJRSS) ISSN:2582-6220, 2(3), 34-43. https://doi.org/10.47505/IJRSS.2021.9181
This work is licensed under a Creative Commons Attribution-NonCommercial 4.0 International License.